Cooperation between Fraunhofer Gesellschaft and CEA-LETI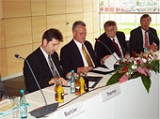 The French research institute CEA-LETI, represented by director Jean Therme, and the Fraunhofer Gesellschaft, represented by the President of the Executive Board Prof. Hans-Jörg Bullinger, signed a contract for cooperation on September 8th, 2003 in Munich.

CEA-Leti, located in Grenoble with about 800 employees, is one of the worldwide leading research establishments for microelectronics and micro technology, with 30 start-ups and over 120 patents per year.

The Fraunhofer-Gesellschaft's European cooperation strategy is implemeted in this contract, as stated by Prof. Hans-Jörg Bullinger: "... the general objective is an active role to influence the future European research landscape and to integrate the Fraunhofer-Gesellschaft in these networks…".

The Fraunhofer Microelectronics Alliance (VµE) and CEA-LETI, two of Europe's major applied research establishments with international acknowledgement, are going to join forces in order to intensify their European presence.

The partners agreed upon a concerted initiative of Fraunhofer IZM and CEA-Leti concerning "Heterogeneous System Integration". Both institutes are going to intensify their mutual activities concerning this highly innovative sector within the European Union to compete in the global market.

Cooperation kick-off was initiated on bilateral teams, managed by Dr. Jean-Pierre Joly, LETI, Grenoble and Dr. Peter Ramm, IZM, Munich, defining a combined research program with 2 work packages "Wafer Level Packaging" and "3D-Integration".