Cooperation with the University of Utah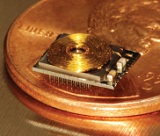 In 2005, Fraunhofer IZM and the University of Utah started their cooperation on the basis of two projects on neuronal protheses. Fraunhofer IZM provided the technology for a wireless integration of the system into a miniaturized device.

As part of this collaboration, two senior researchers were sent in succession to the University of Utah. In 2008, the cooperation was strengthened by Fraunhofer IZM sponsoring a researcher position in the field of biocompatible encapsulation technologies. Aside from the already running projects, the contacts and project involvements with US industry have been intensified. Fraunhofer IZM´s expertise is now applied to e.g. intelligent catheters or electronic modules for behavioural research.

Focus of the IZM cooperation with the University of Utah is clearly in the field of medical device technology, however, other areas also benefit from the know-how of IZM scientists. R&D projects in the field of miniature camera systems as well as opto-electronic components have been initiated.

Also, Fraunhofer IZM supports the Surface Mount Technology Association (SMTA) during their annual technology show and conference.
The University of Utah Neural Interface is currently distributed by Blackrock Micorsystems.
Further information can be found here: https://www.blackrockmicro.com/electrode-types/utah-array/