Fraunhofer hits the pavement for the 9th Berlin corporate marathon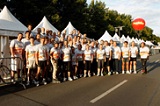 Almost 7500 runners showed up for the 9th Berlin corporate marathon on the 3rd September 2010. Warm weather and blue skies ensured the participants and sports enthusiasts were in great spirits throughout the afternoon.
Fraunhofer kept up with the best of them 86 athletes from the 6 Berlin institutes took part, rallying together to run the 6-km route through the Tiergarten under the motto Fast Running Scientists. The fastest skaters ranked 26th and 53rd, while the fleet-of-foot runners ranked 4th, 14th and 35th.