Official opening of Fraunhofer IZM-ASSID in Dresden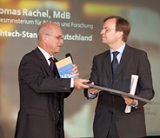 On Monday, 31st May 2010, Fraunhofer IZM – ASSID All Silicon System Integration Dresden opened. Around 200 guests from throughout Germany came to Dresden-Moritzburg to celebrate the opening of the new center with high-profile guests from politics and industry. Fraunhofer IZM-ASSID's engineers develop technologies and materials for systems that incorporate several electronic components in miniaturized housing. Using wafer-level system-in-packages (WL-SiP), the performance of microelectronic systems will be increased by stacking components in several layers and electrically connecting them, rather than simply assigning them all to one level.

The resulting small, complex systems are required wherever fast signal processing is a priority, for example, in image processing and analysis in medical devices or security. Other applications include controls in mechanical engineering, robot systems, as well as for energy-efficient vehicle control systems in electric cars.

"Our goal is developing customized solutions for a wide variety of customers in industry and research," explains Dr. Klaus-Dieter Lang, Acting Director of Fraunhofer IZM. The German ministry of education and research (BMBF), the EU and the Free State of Saxony are funding the establishment of the new center, including the equipment and infrastructure. The BMBF is funding the first R&D project to the tune of 13 million euros.