Guaranteed Reliability: Michael Niedermayer wins Sensorcomm's Best Paper Award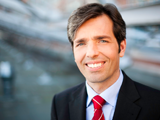 How can expensive equipment failure in industrial settings be prevented? Is energy-efficient condition monitoring of this equipment possible? Fraunhofer IZM's Dr. Michael Niedermayer found some surprising answers to these questions. He presented his results in a poster titled "Early-Warning System for Machine Failures: Self-sufficient Radio Sensor Systems for Wireless Condition Monitoring" together with his Fraunhofer IZM colleagues, the Gesellschaft für Maschinendiagnose mbH (GfM) and the Berlin Center of Advanced Packaging (BeCAP, TU Berlin).

The International Academy, Research, and Industry Association (IARIA) committee selected their innovative solutions as winner of the 2013 Best Paper Award at the 7th International Conference on Sensor Technologies and Applications (Sensorcomm) in Barcelona.