Regional launch event at the Berlin-Brandenburg partner institutes
Unveiling the "Research Factory Microelectronics Germany" in Berlin and Brandenburg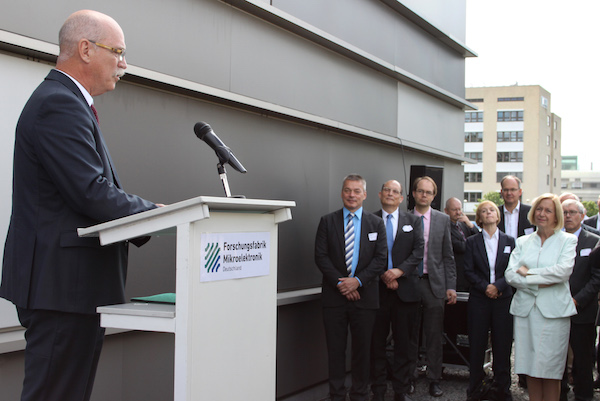 A consortium of eleven Fraunhofer institutes from the society's microelectronics group and two institutes of the Leibniz Association have developed a novel concept for a nano- and microelectronics research factory. The ambition for this cross-regional initiative is to level up the quality of electronics research in Germany and establish a joint source for research services covering the entire innovation chain.
The two pairs of Leibniz and Fraunhofer Institutes of Berlin and Brandenburg, including the Fraunhofer IZM, will be receiving a grant of €117.2 million from the Federal Ministry of Education and Research to update and expand their technical infrastructure and lay the groundwork for cutting-edge research and development in the field of microelectronics. The institutes are pooling their expertise and resources in dedicated technology hubs, designed to promote immediate and efficient progress in promising new avenues of research.
On July 6th, the Ferdinand Braun Institute, the Leibniz Institute for Ultra-High Frequency Technology, opened its doors for the regional launch of the Research Factory in Berlin-Brandenburg. An opening address by the Federal Minister for Education and Research, Johanna Wanka, and statements of many representatives from science and politics accompanied the official unveiling of the sign for the new "Research Factory Microelectronics Germany".