Smart Textiles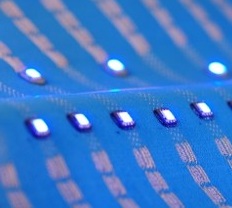 Textiles are an indispensable part of our everyday life. They are not limited to clothing made of fabric, knits and fleece, but also include technical textiles and composite materials. They withstand extreme stresses during washing and have many different functions while being light and highly flexible.
By integrating electronic components, textiles can be enhanced with many different functions such as sensors and lighting. This enables completely new application areas for textiles.

Fraunhofer IZM's research group System-on-Flex has been developing, analyzing and qualifying textile-based electronic systems for over ten years. A main focus is innovative interconnection technologies for textile and stretchable substrates. Functionality and reliability requirements are always determined by the application in question. Our laboratory for electronics in textiles (TexLab) and diverse equipment for microelectronics assembly and analysis provide the best preconditions for research and development.

Applications
The wide variety of electronic textiles available is matched only by the many possible applications, including in the fashion sector, to medical engineering, security and logistics, through to the lighting and construction sectors:

Textile Mikrosystemtechnikplattform (TePat)
Textile wireless sensor nodes (Wear-a-BAN)
Textile EKG- und EMG-Sensoren messen Herz- und Muskelaktivitäten direkt in der Sportbekleidung (ConText)
Sensors integrated into clothing as part of personal safety applications (Sinetra, Texteer)
Large-area fabric with integrated sensors for alarm systems (AlarmTextil)
Sensors in fiber-reinforced composite materials for condition monitoring
Textile RFID transponders for logistics (TextraLog)
Interactive evening dress and activewear (Cyber Nomade Suite, Sporty Supaheroe Jacket, Klight, e-MOTION)
Anti-theft and anti-fraud protection in clothing and textile accessories (Pocket Lock Backpack)
Occupancy sensors for vehicle seats (InsiTex)
Research Area TECHNICAL TEXTILES (www.textil.fraunhofer.de/en.html)
New ultrasonic welded interconnection technologies for e-textile production (WelConTex2)