Fraunhofer Innovation Cluster: Maintenance, Repair and Overhaul in Energy and Traffic (MRO)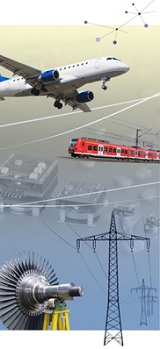 Fraunhofer IZM is investigating and developing applications for specifically mechatronic and electronic component-related MRO, as well as sensor integration in all application areas of the focus topics energy and traffic in this innovation cluster.

Maintenance, repair and overhaul of (power) electronics are becoming increasingly important as the quantity of electronics and its proportion of value-added in products continues to rise. The integration of electronics makes new applications and business models possible, thereby contributing to a trend of sustained increasing returns from technical maintenance, which help to offset the business cycles of new business.

Remote maintenance, condition-based failure prediction and preferably no servicing requirements outside of planned maintenance cycles are examples of requirements that can only be met by additional electronics. Additionally, in the future some of the electronics itself will also be monitored using condition monitoring. Due to the, in some cases, extremely long operation times, long-term spare part provision will also have to be investigated.

Together with other research partners and above all regional industry, Fraunhofer IZM will be carrying out preliminary research, cooperation projects and industry projects within the innovation cluster.

Fraunhofer IZMs research approaches:
Autonomous microsystems for condition diagnosis of components and products

Failure prediction models for electronic products

RFID-assisted spare part logistics (autonomous microsystems for logistics)

Planning of the long-term availability of electronics

Reliability of repair processes and overhaul concepts for electronic components