Fraunhofer IZM ASSID showcases recent research results at European 3D TSV Summit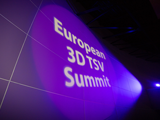 After last year's successful debut, the European 3D TSV Summit, organized by SEMI Europe, took place for the second time from January 22-23, 2014 in Grenoble. The theme of this year's event was "Application Ready," addressing 3D TSV from both a business and technology perspective.
Fraunhofer IZM's ASSID Center ("All Silicon System Integration Dresden") was co-organizer of the European 3D TSV Summit and presented its latest research results both at the conference and at the concurrent exhibition.
more Information: http://www.semi.org/eu/node/8566
For pictures from the event, please click here: http://www.pierrejayet.com/SEMI