Fraunhofer IZM at PCIM 2013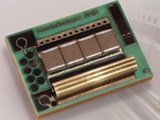 Nuremberg May 14, 2013 - May 16, 2013
Fraunhofer IZM again exhibited at PCIM, the trade fair for Power Conversion and Intelligent Motion in Nürnberg. We presented our entire spectrum of services in the realm of power electronics, covering:

System Design & EMC

Packaging & Assembly

Reliability Design & Sensors
One focus of this year's presentation was on a 15 kW solar inverter mounted with silicon carbide (SiC) chips that was developed together with Bosch in a project funded by the German Ministry of Education and Research. The total volume of the demonstrator is approx. 70 percent less than that of the current leading commercially available solar inverter of the same power output. Other highlights include an especially low-inductance package with embedded chips. Dr. Eckart Hoene who presented this new development at the concurrent PCIM congress war awarded the PCIM 2013 Best Paper Award for his contribution.