Fraunhofer IZM at PCIM Europe 2015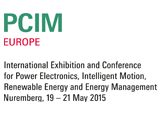 For anybody interested in the newest developments in power electronics, intelligent drive technology, renewable energy, or energy management, Nuremberg was the place to be between 19 and 21 May 2015: At the Power Conversion Intelligent Motion conference and expo – PCIM Europe 2015 in short – the who's who of the sector was in attendance. This naturally included the Fraunhofer IZM.
The exposition offered a great opportunity for visitors to experience the entire power electronics portfolio of our institute, from the assembly and connector technology for power electronics systems or system design and reliability engineering to new cooling concepts. One highlight of the both was the "Little Box Challenge", Google's challenge to organizations and individuals around the world to develop the smallest solar power inverter. At the PCIM, the world had a chance to see how the Fraunhofer IZM has teamed up with research partners from the ETH Zurich to accept this challenge and live up to and exceed its tough specifications.
IZM representatives attended the PCIM Europe 2015 with four special lectures and two posters.