Fraunhofer IZM at Laser Optics Berlin 2010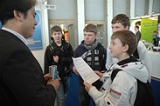 For the fifth time running Fraunhofer IZM exhibited at the Laser Optics Berlin. Under the heading of Photonic Packaging optical and optoelectrical packaging and interconnection technologies were presented.
The focus of this year's Fraunhofer IZM presentation was on photonic packaging for:
Cost-effective optical interconnection technology

laser modules (telecommunication, projection, high power) and receivers

electro-optical circuit boards and optical backplanes (integration of thin glass based waveguides, substrate integrated micro-optics)

special technologies for fiber optics (fiber lenses, laser fusion)

power light sources (ultra-high-brightness LED)
The proverbial "highlight" at the booth was a historical gas lantern in which the gas mantles have been replaced by HiTec-LED-mantles. The lantern was presented by courtesy of BRAUN Düsseldorf GmbH and it impressively demonstrated how the use of efficient LEDs not only significantly reduces the cost for operation and maintenance, but also reproduces the color rendering of the original gas lantern.
Fraunhofer IZM also presented an autarkic portable measuring device for practical tests to quantitatively determine the microbacterial contamination of meat and other foodstuffs. The portable device uses a fiber-optic optode for the fluorescence spectroscopy measurements. It can read and re-write conventional RFID labels to, for example, record the detected measurements on the labels. The device can be connected to laptops, PCs and thus the Internet via integrated Bluetooth. An intuitive touchscreen-based GUI is used to operate the scanner.