Packaging Day 2010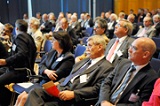 A German proverb says, "When the winds of change blow, some build walls while others build windmills". Fraunhofer IZM said farewell to one of the great "windmill builders" in microelectronics and microsystem technology, Professor Herbert Reichl at Packaging Day on July 6th, 2010.
Over the years since its foundation, Prof. Herbert Reichl developed the institute into a leading center for electronic packaging. Without him, cutting-edge, internationally recognized technologies in the assembly and reliability of electronic systems would not have been possible.
Together with almost 300 guests and associates of Prof. Reichl, we reviewed research highlights from his time in Berlin and Munich, highlighting those that have already found their way into industrial application.
In the afternoon, the visitors learnt more about the direction Fraunhofer IZM is heading in - the key assembly and packaging areas of tomorrow, system integration for more functionality and better adaptation to applications.
As part of the farewell celebration, high-profile representatives from research, politics and industry thanked Prof. Reichl for his impressive contribution to both research and research-related infrastructure and organizational development during his professorship in packaging at the TU Berlin and as Director of the Fraunhofer Institute for Reliability and Microintegration IZM. Fraunhofer President Prof. Hans-Jörg Bullinger spoke of a "truly historical moment for the Fraunhofer-Gesellschaft." In recognition of his services, Prof. Reichl was presented the Fraunhofer IZM Research Award, the TU Berlin's Golden Honorary Pin and the Microelectronics Award from the Fraunhofer Association of the same name.