ArtGuardian Solution Wins 2015 iF Design Award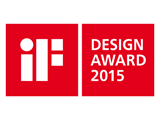 The sensor unit at the heart of the ArtGuardian, a game-changing solution for preventive conservation in the art and museum world, has won the 2015 iF Design Award. It was icing on the cake for the team behind the product, who were busy shepherding the system into the first run of series manufacture when the announcement came. ArtGuardian micro-climatic monitoring combines cutting-edge Fraunhofer IZM technology with clever design into a sensor system that allows art custodians to safeguard the condition of artworks in their care around-the-clock, anywhere in the world.

Demand for the product and its viability has already been established in a number of pilot projects, including (climatic) monitoring of the Land Hesse's most valuable painting, Rembrandt's 1656 Jacob Blessing the Sons of Joseph, which is currently on loan in Amsterdam.
The iF Design Award ceremony was held at the Munich exhibition center BMW Welt on February 27.
More Informationen: http://artguardian.com/