Fraunhofer IZM scientists honoured with IMPACT Outstanding Paper Award second time in a row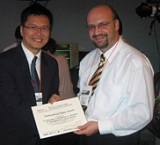 At the 4th International Microsystems, Packaging, Assembly and Circuits Technology (IMPACT) Conference in Taipei (Taiwan) Dionysios Manessis, Lars Boettcher, Andreas Ostmann, Stefan Karaszkiewicz and Herbert Reichl were honoured with the 2009 Outstanding Paper Award.
The annual IMPACT Conference is organised by the Industrial Technology Research Institute (ITRI) in Taiwan and has developed into one of the biggest events in the realm of microelectronic packaging worldwide.
The IZM researchers received the award for their excellent contribution entitled, "Breakthroughs in chip embedding technologies leading to the emergence of further miniaturised system-in-packages". The paper provides evidence for chip embedding capability at the very fine chip pad pitch of 100 µm and discusses the technology limits. The main activities in the EU-Hermes project towards the industrialisation of chip embedding technologies are described.
The award was presented to Dionysios Manessis by Dr. Wie-Chung Lo, director of ITRI's Package Technology Division, at the official award ceremony during the conference in Taipei on October 23, 2009.
Last year the same group of researchers was honoured with the IMPACT Outstanding Paper Award for their contribution "Embedding of Chips for System in Package Realization – Technology and Applications".