Klaus-Dieter Lang awarded the Fraunhofer Medal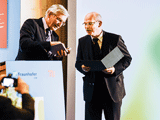 On 16 December Fraunhofer IZM's director Klaus-Dieter Lang received a very special honor: In recognition of his services and achievements, the Fraunhofer Board has decided to award him the Fraunhofer Medal. The Medal was formally presented by Professor Alfred Gossner on behalf of the Fraunhofer Society on the occasion of the symposium on »Microelectronic Packaging in the 21st Century«. In his laudatory statements, Professor Gossner paid particular tribute to Lang's expertise in the spirit of Joseph von Fraunhofer – excellence in linking scientific creativity with the efficient management of innovation.

Professor Lang has been a formative force for the Fraunhofer IZM ever since the foundation of the institute in 1993. In 2011, he took charge of both the running of the institute and the chair of »Nano Interconnect Technologies« at the Technical University of Berlin. The scientific excellence achieved under his leadership has led the Fraunhofer IZM to be recognized as Germany's premier research institute for electrical engineering leading by the German Science Council.