Lars Brusberg walks away with ECTC Interactive Presentation Award
2014 saw the introduction of the interactive poster for the first time at 64th Electronic Components and Technology Conference (ECTC), one of the world's leading conferences for packaging and microsystem technology, held in Orlando, Florida, last May. The new medium allows participating researchers to interact more directly with their colleagues. Fraunhofer IZM's Lars Brusberg was the first to receive accolades in this new category.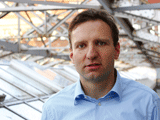 His outstandingly dynamic and informative interactive presentation paper "C02-Laser Drilling of TGVs for Glass Interposer Applications", which he produced together with Fraunhofer IZM colleagues Marco Queisser, Marcle Neitz, Henning Schröder and Klaus-Dieter Lang, drew the conference's first Interactive Presentation Award.
More Information: ECTC (http://www.ectc.net/)