Seminar on autarkic wireless sensors a success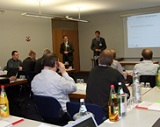 Fraunhofer IZM, TU Berlin and the AMA organized an seminar on the essentials of autarkic wireless sensors, held in Potsdam-Babelsberg on 29th October 2009. Fraunhofer IZM's Dr. Stephan Guttowski was responsible for organizing the seminar content.

The following topics were discussed in relation to relevant application and implementation criteria, using many practical examples:
The design of autarkic wireless sensors (system design, assemblies and components, operating and user software, cost-effective design)

Technologies for manufacturing autarkic wireless sensors (packaging, manufacture using wire-bonding technology, reliability and lifecycle)
Due to the overwhelmingly positive response, the event will be held again in Spring 2010.