A new benchmark in environmentally friendly electronic design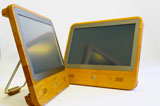 Fraunhofer IZM and Ireland's MicroPro have developed a best practice for environmentally friendly electronic design. The new "iameco" (I-am-eco) PC is the most environmentally friendly computer of its type, and was designed to maximize energy efficiency.
Thanks to iameco's use of sustainable materials, particularly its wooden case, and its outstanding lifetime, it is the first touchscreen computer to be awarded the European "EcoFlower" label.

Easy disassembly to facilitate repairs and an improved recycle fraction are two key features of the new PC. 98 percent of PC's materials are recyclable, of which 20 percent can be reused directly. Thanks to its modular upgradability, its lifetime is also much longer than that of conventional PCs. Its standard components, such as memory and processors, are largely halogen-free.

The passive cooling system and solid state drive (SSD) keep noise and power consumption to a minimum. In fact, iameco's annual power requirement is just 94 kilowatt hours (TEC standard), which is 45 percent less than the 148 kWh threshold of the Energy Star for touchscreen computers.

With emissions of less than 360 kg CO2, iameco's carbon footprint is 70% smaller than that of a conventional desktop computer and monitor.