Encapsulation Processes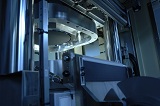 Fraunhofer IZM offers the following processes for encapsulation:

Transfer Molding for the encapsulation of highly stressed assemblies, e.g. sensor packages or SmartPower modules.
Compression Molding for the production of reconfigured wafers as a basis for 2D/3D integration
Precision dispensing for the encapsulation of flip chips and COB assemblies
Jet dispensing for contactless dispensing of encapsulation material
Potting of power electronics by means of 2K potting
Protective coating application by painting for polymer electronics & industrial applications

In addition to process development, Fraunhofer IZM also conducts material and package analysis. This ranges from determining the material properties depending on the process parameters to investigating the ageing behaviour of polymers under harsh environmental conditions - an important aspect for the automotive industry in particular. Microelectronic packages are also tested using US- and high-resolution X-ray microscopy.